[Dandridge, TN — Friday, July 24, 2020] In a press release on Wednesday, July 8, 2020, Jefferson County Chamber of Commerce announced Richard Peterson as its new President, CEO. Peterson has since accepted a job elsewhere and will not be starting with the Chamber, as previously mentioned. However, the Board of Directors is elated to announce current Chamber employee Derrick Collins will be filling the role effective immediately.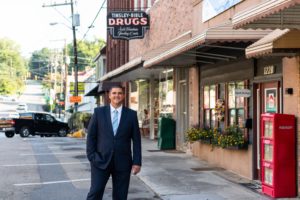 Collins currently holds the position of Director of Economic Development and has been acting manager since February. Prior to starting this role in August 2018, he served as the Community Development and Membership Coordinator for the Chamber from February 2016 to October 2017. Adding to his Chamber experience, Collins was a 2017 graduate of LEADERSHIP Jefferson County.
"Derrick has been a staple of the Chamber and the Jefferson County community for years," stated Scott Schroeder, Chairman of the Board. "We're excited to have him in this new role and know he will push the Chamber in a great direction."
As President and CEO, Collins is responsible for all functions of the Jefferson County Chamber of Commerce that are required to meet the Chamber's mission and annual operation plan. Working closely with his team and the Board, he will support the community by identifying, developing and implementing membership programs and benefits and economic development opportunities that enhance our community.
"I love our members and our community and am eager to serve in this new role," said Collins when asked about the new position. "Having worked with the Chamber over the years, I've seen us evolve and grow and look forward to playing an integral part in continuing to do so."
As previously mentioned, Collins is not new to the area. He attended Carson-Newman University, where he earned his bachelor's degree in Mass Communications and was also a member of the Eagles baseball team. Collins has served and currently serves on various boards around the county, including the Board of Directors for Jefferson County Habitat for Humanity (current) as well as Campaign Chairman for United Way of Jefferson County (2018-2019).
Collins is married to Christy, and they have two daughters, Mackenzie and Macie. He and his family are active members of Russellville Baptist Church in Russellville, TN.
About Jefferson County Chamber of Commerce
Jefferson County Chamber of Commerce is to be the voice of our members and to focus on enhancing the growth and prosperity of our community. We serve the interest of businesses in each of our five municipalities within Jefferson County through networking and education opportunities, as well as economic development activities. Our Chamber of Commerce is committed to helping ensure a prosperous county where our members and citizens all thrive.